SALL

(Self-Access Language Learning Center)
SALL (Self-Access Language Learning Center) houses a collection of DVDs, CDs, and English newspapers, and students are encouraged to utilize them for self-directed language learning.
Location
International Relations 2nd floor, Room 3218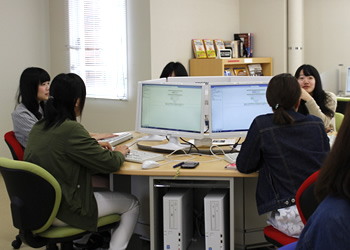 Opening hours
Monday-Friday, 8:30 a.m. to 5:00 p.m.
SALL remains open for a limited hours schedule during summer, winter, and spring breaks.
It is closed on weekends and national holidays.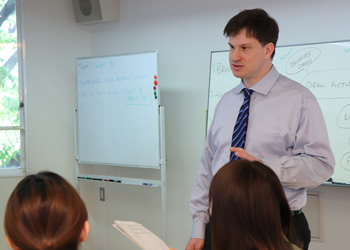 Equipment/Resources
36 PCs
950 DVDs
(888 foreign films/ 62 domestic films)
English newspaper:
The Japan Times on Sunday, The Japan Times Alpha, Asahi Weekly
Books:
CNN English Express, TOEIC preparation books, English texts and novels
Internet access and iTunes are also available.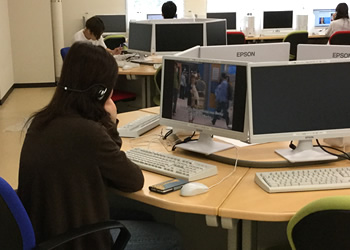 Borrowing/Loaning of Resources (restricted to use within SALL)
Bring your own student ID.
You can borrow a DVD or a CD in exchange for your ID at the reception.
You can watch and listen to it on a desktop.
The center is accessible for students in all the faculties and schools.
Matters that require attention
Please follow the directions below when you using SALL.
All devices and resources are strictly for use within the SALL. You cannot check out DVDs and CDs.
No food and drinks are permitted.
Please report any mechanical issues or matters of concern to SALL staff.
We appreciate your understanding and cooperation to make SALL a comfortable place for everyone.
A brief message from SALL staff:
We are making every effort to make SALL a comfortable place for everyone.
We also encourage and welcome your requests for new DVDs and books.
Feel free to make your suggestions!
STUDIO

(Specialized Technologies for Unifying Directed Interaction Opportunities)
The STUDIO is a free space designed for drastic facilitation of communication-focused foreign language learning, and is an innovative learning facility with state-of-the-art education technology, aiming for versatile educational platforms such as IT-based classes, presentations, workshops and symposiums.
The STUDIO began operation in full swing in April 2010. Second-year English communication courses across all the five faculties and schools are considered English for Specific Purpose courses, and these student-center courses are provided at the STUDIO.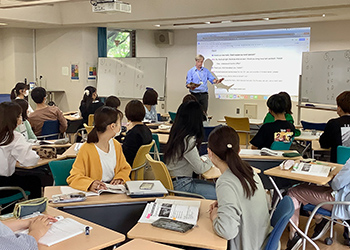 Technology
A major advantage of using the STUDIO is that with the following facilities and equipment, we can create a variety of educational activities.
(1) Movable desks and chairs enable a variety of learning styles (e.g., group, pair, and individual objectives)
(2) IC recorders for students' individual research projects and pronunciation exercises
(3) Digital video cameras for recording students' role plays, presentations, and discussions
(4) laptops for instantaneous checking of their recorded language activities and wireless Internet access for online learning
(5) a workplace for online dialogues between students and instructors
(6) a large screen for viewing students' presentations and other visual aids in class